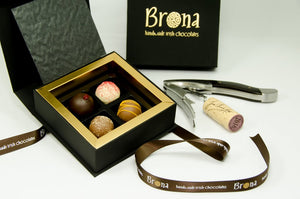 Welcome to Brona Chocolates
We are a family-run artisan chocolate producer based in the south-west of Ireland.
At Brona Chocolate only the highest quality ingredients are used to produce a wide range of flavoured chocolate bars from old favourites such as 'Fruit & Nut' to the more adventurous 'Salt & Chilli'.
We also produce a range of novelty items, macaroons, hot chocolate spoons etc.
With over 24 different flavour combinations we are confident that we can satisfy the majority of taste buds.
For that special someone
From Christmas to Valentines to Dinner Parties, Debs, Teacher Gifts and more. We provide hampers and packs to cover all occasions!